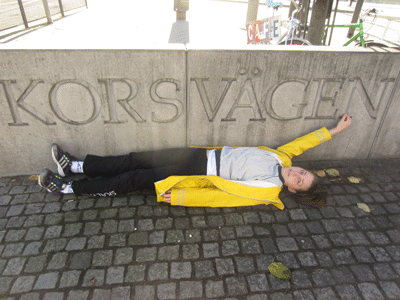 Introduction
Korsvägen can be translated into english as The Crossing Road and triggers my curiosity just because it lives up to its name. Here people, bicycles, cars, trucks, buses and tram are constantly blocking the flow for each other. I see it as a metaphor and core structure of a city. It includes both the possibility to meet each other and to block someone else's way. A place where the density and flow of people is high.
How does it feel to spend a longer sequences of time there with an other purpose than just change of transportation? How do the body experience the place? How is the body influenced to move?
When I decided to do a research of Korsvägen in Göteborg I had the feeling it needed to be done properly. Repeatedly at different times, different days. It goes under one of SKÄLVAs themes namely "places with seeming discomfort". Places which do not appeal as places to stay.
DOCUMENTATION IS GOOD, BUT HOW?
The result so far is a trilogy. All has been documented mainly in moving image. A decision has been made that the warm-up session is not included in the documentation (which is normally the case for SKÄLVA) as the starting point usually takes all the focus away from all else than the group and movement. Nevertheless this research can be seen as the most documented research so far in the history of SKÄLVA, as it presents a lot of unprocessed video-material. This can of course be argued that just because it is MORE material and that it is supposedly "unprocessed" does not necessarily mean that is the most documented. But as we all can confuse quantity with quality I will stand by this opinion. Maybe move on to the question of: "Why bother with more material?". This question I can only find light weighted answers to, like "It is fun", "It keeps us participants busy with more things and I'm quite often experiencing a feeling of not having enough things to do" and "Time will tell".
SKÄLVAs history (as we have done over 50 explorations I dare claiming we have a history) is quite well-documented. We decided already from the start that all events will be photographed. I can't remember why, probably because I love hanging out with my camera. There is also this great embedded conflict of using still images to document movement. I still find it a good tool to point at the problematics of trying to keep hold of something. An interesting thing is that the photos have extended the lives of the events into the future giving people an idea of how it can become in the next exploration. It seems like the imagination bridges the gap between seeing photos and how we think it would be to experience it. The eyes and the rest of the body are deeply connected.
Somewhere the moving image started to crawl into the practice of documentation. There is some obvious advantages using it in comparison with still image, which will now be listed:
1. It can capture movement in a very, I want to say "natural" way, meaning that it can with an bigger ease give the viewer the feeling that it is unmediated.
2. You push the record-button once and then the camera does it's thing until you tell it to stop.
3. A video-sequence in comparison to a still image has a weight to it which is a expansion in time.
But there is also some big obstacles that makes still image seem like a better option:
1. Video is time consuming to make and to watch. Is this really time well spent?
2. The material can turn out to be pure shit. A shaking camera swishing the viewer to feeling nauseous
Ok, so the pro-list is for the moment longer, which kind of upsets me.
We shall not forget SKÄLVAs tradition of accompany the photos/video with text. Usually co-written and with some playful rules.This text is not at all written with some playful rules, it is rather driven by a lust to formulate and as that seems to be enough to keep the author happy so I hope this will excuse the interruption this makes in the SKÄLVA archive.
Next, you can dig down in the visual documentation:
Crossing Roads part 1 of 3

Exploration number: 055
Place: Korsvägen*, Göteborg
Time: ca 08.30-09.00 , 9th of October
Particpants: 2
Equpiment: 1xdigital compact camera
Duration: 12 min 44 s.
Freeze frames to watch:
12.44
00. 00:30 Pause
01. 01.11 Crossing Road
02. 02:35 Camera Watching Three People Crossing Tram Tracks
03. 03.41 Crossing Tram Tracks
04. 04.22 Camera Sitting down on Bench
05. 05.05 Long Session Petting Trunk of Tree
06. 06:37 Camera Doing a Close-up on Textiles
07. 07.33 Registrating the Presence of a Force of Ticket Control
08. 08.16 Camera Hypnotized by a Red Light
09. 09.49 Walking in Procession
10. 10.37 Face in Hood Close-up
11. 11.26 Pause
12. 12.44 Camera Out of Battery

Crossing Roads part 2 of 3

Exploration number: 056
Place: Korsvägen*, Göteborg
Time: ca 14.30, 11th of October 2013
Participants: 3
Equipment: 2xskateboards, 1xvideocamera
Roles: 2xskating and walking, 1xfilming and walking
Duration: 8 min 33 s.
Amount of roads we cross (every lane counts): 22
Amount of times the two skateboards gets lifted of the ground: 8
Crossing Roads 3 of 3
GIF made by stills from video documentation. Frames 00:05:09:05, 00:05:09:06, 00:05:09:07 and 00:05:09:08.

Exploration number: 057
Place: Korsvägen*, Göteborg
Time: ca 11.00, 12th of October 2013
Participants: 2-3
Equipment: 2xsmartphones in a holder wrapped around one persons stomach, 1xcompact digital camera
Roles: 2 moving (and 1 observer for the first 5 minutes)
Duration: ca. 20 min
Amount of roads we cross (every lane counts): ca 15


*Korsvägen (The Crossing Road) is situated a bit southeast from the most central part of Gothenburg. The density of traffic is high as people, bikes, cars, trucks and public transport meet at this place. Trams comes from four different directions and circles around a triangle shaped square which is built in the middle.

Parse error: syntax error, unexpected '<' in /storage/content/95/130995/xn--sklva-hra.se/public_html/wp-content/themes/sight/footer.php on line 2